I'm not sure how many of you are familiar with the 50 year old BBC show Doctor Who, but I have watched every single episode and special since it's revival in 2005. The Doctor himself has been played by a slew of different actors and has always had a (usually female) companion by his side. The most recent Doctor is played by the youngest actor ever to portray the alien Time Lord: Matt Smith…
The Doctor travels through time and space in his ship The TARDIS (Time And Relative Dimension In Space) saving humans and aliens alike from the evil that threatens the universe. His current companion, Clara, is portrayed by Jenna-Louise Coleman:
But all this is just a little background information to give you a sense of the world of Doctor Who. My interest was piqued most recently by an episode that ran a couple weeks ago but I just now got around to viewing: "The Bells of Saint John". In this episode, The Doctor and Clara investigate an unusual wifi server that seems to be downloading people's souls.
Now, obviously, whether intentional or not, this serves as a metaphor/commentary on how the Internet has taken over our lives and even penetrated our hearts and minds. So without delving into that discussion, I wanted to focus on a couple of other scenes that caught my attention.
The villains in this episode discover that The Doctor is on to them. In doing so, they determine that to find the Doctor they should first find the TARDIS.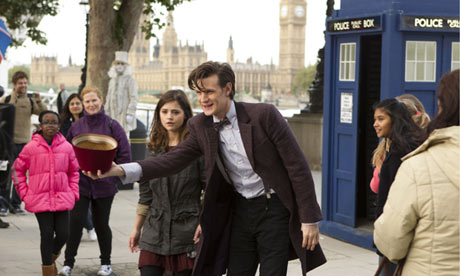 In the scene that this still was taking from, The Doctor's Tardis appears in the middle of a crowd. Thinking it is a magic trick, onlookers take pictures that are then instantly uploaded from the web. In this way, the villains are able to track The Doctor and Clara as they race across London on a mission to discover who is behind the evil wifi.
In the second scene that I found interesting, Clara is hacking into the mysterious wifi to discover who is behind the scheme.
She hacks the web cams of the employees and takes pictures of their faces, then running a scan to match the faces to employee Facebook, Flickr, Tumblr, and Twitter accounts. All of whom have their place of employment listed. From there, after a few more obstacles, The Doctor and Clara are able to return everyone's souls and minds back to their bodies.
However, from my point of view as a communication student in a social media class, I was extremely intrigued by what this says about our online privacy, or lack thereof. Granted, this is a science fiction television show, but this episode took place in present-day London and addressed extremely current issues about Internet addiction and social media privacy.
It has become increasingly difficult to maintain a social media presence while retaining privacy of photos, status updates, and personal information. Of course, most sites like Facebook and Twitter offer privacy settings by which to maintain some semblance of a private online life (if you'll disregard the paradox).
But something always seems to leak out. And while the results aren't so drastic as portrayed in Doctor Who, if that one embarrassing picture gets out, maybe someone loses a job. Or if you post about going away on vacation, who's to say your home is safe from burglaries?
So what then is the ultimatum? Renounce all social media or else risk sensitive information becoming public knowledge? If I had the answer I wouldn't be asking myself this while I check the box of every privacy setting Facebook and Twitter have. But then what is the answer?